Hoo-boy what a weekend. Because I'm so new/terrible at this blog posting/picture taking thing, I don't have much in the way of pictures to share with you from my beautiful weekend adventure in the mountains. I also was very nervous bringing my brand new baby camera up on a very cold, snow-covered mountain I was about to ski (tumble) down.
None of the pictures I do have are actually of the outdoors…it's really very sad cuz it was amazing.
The hotel/resort we stayed at in Beaver Creek was spectacular. How spectacular was it?
Just look at that drink tray!
That is water…in a fancy glass bottle. So fancy! I'm obviously easily impressed. But really, we were in the nicest hotel in the resort as proclaimed by several people in the area. Pretty awesome. Unfortunately, they lacked a little in the fitness room area. "But Sarah" you say, "you are at a fancy ski in/ski out resort hotel in the mountains. Why would you need a gym when you can just go skiing?"
That is a good question. The answer is simple. It was squat day. I haven't missed a day of my cool beans 5/3/1 workout since I started 7 weeks ago and I don't intend to let a little recreational skiing hinder that record! Plus it was my heavy week which is another way of saying "competition to show how ridiculous strong you are" week. I am weird. I have resigned to this aspect of myself.
Anyways, the little fitness room had three cardio machines, a dumbbell rack that only went up to 50 lbs, and a dual cable machine. Not the ideal spread for heavy squat day. Also, no foam rollers or stair climbers in sight. I have really tight hips so a thorough warm-up followed by stretching and rolling out before leg days is extremely important. I prefer stairs for my warm up because they are killer for your legs, but with none I opted for the elliptical (ugh) and did some static stretches before figuring out how to perform my heavy squat day.
Here's what I came up with:
Just call me MacGyver
Maybe not. But I got to do my heavy day. I nixed the accessory work in favor of skiing. It was prolly worth it since my knees were upset with me when I was done. I also ended up learning snowboard in the afternoon. I basically spent three hours in a sustained squat…not regretting skipping accessory work.
Speaking of snowboarding…ow. I've always wanted to learn but never wanted to be the one by myself on the bunny slope. This time an opportunity presented itself so off I went.
We decided to start me off up the mountain because we saw no bunny slopes. So basically I had to make it all the way back down. It was a long way. About 1/4 of the way down I fell wrong and tried to catch myself. My pinky popped really hard and instantly started turning purple. Good thing I had all this handy ice available…I think it's just bruised cuz I can definitely move it.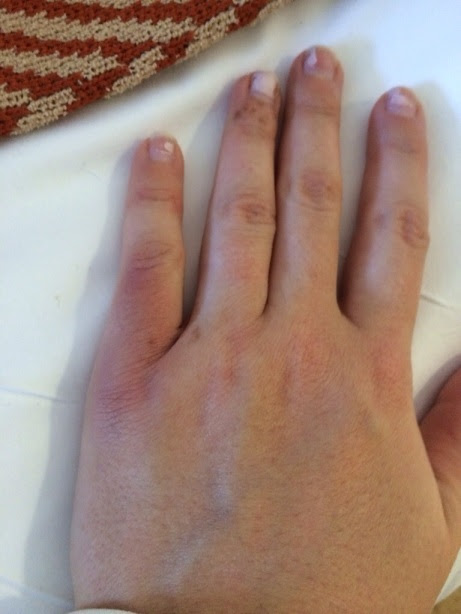 Please excuse the horrifying manicure
That's when they tell me to try to land on my fists….thanks guys. My wrists def popped a few times too, but they seem to be largely fine. I took a few good spills and hit my head once, but I totally made it down that friggen mountain. Even if I leafed the entire way (this was the constant squat I was talking about).
I look so gangster!
Sorry for the terrible selfie (shudder) but that was literally the only picture I have all bundled up (look at those awesome pants!!). Minus the super awesome headband I slapped together Friday night. Anyways the trip was pretty awesome and I'm pretty sure I am sick now. Leaving was sad, but I probably would have really injured myself had I stayed longer.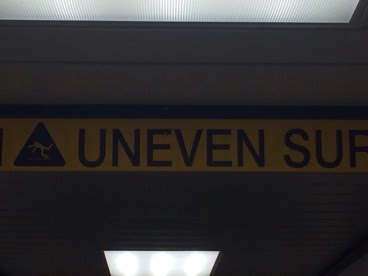 As I was boarding the plane this is what I was met with…it cracked me up
XOs
*Note: I'm a doofus and deleted this post…but it's back now thanks to my hero 😉
Related articles